A while ago, Instagram introduced Instagram Stories. Is it still not very clear what the concept is? No problem, we are here for you 😉
You know Instagram as a place where you can post your beautiful photos to your feed. This is still the case, but now there's an additional layer called Instagram Stories. With Instagram Stories, you can build your own – this might sound logical – story. Instagram Stories gives you the space to share photos and videos that you don't want to keep in your feed forever. That is possible because the photos in Instagram Stories, will disappear after 24 hours. You can take multiple photos, which Instagram puts together in some kind of slideshow. And that's exactly when your own story is born! You can also upload photos from your camera roll but only photos that you took within the last 24 hours.
If you are familiar to Snapchat, Instagram Stories won't be new to you, cause it's practically the same. Just like on Snapchat you can be very creative, as Instagram provides you some filters and text and drawing tools.
How can you watch the story of the people you follow on Instagram? You'll be able to see the stories from those people in a bar at the top of your feed. When they have made a new story, or have updated their story, their profile photo will have a colourful ring around it. Just tap on the circle of the story that you want to see and the little movie begins. When that movie ends, Instagram Stories automatically leads you to the next story. Like this you can watch the stories of the people you follow as if it was one big movie. Pretty addictive!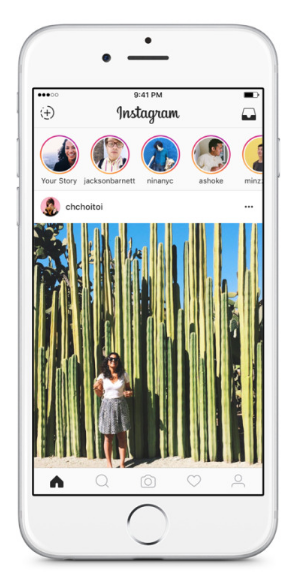 To create your own story, you have to click on the little circle with the plus in it, next to the Instagram logo. Once you clicked it, your camera will be activated and you can make the photo or video that you wanted. If you want to upload a photo or video instead you slide your finger from top to bottom on the screen, and Instagram will load pictures and videos you made the last 24 hours to upload.
After that, you can adjust your new or existing photo or video with filters, text and stickers. Submit your creation and that's it! After 24 hours, your photos or videos will disappear and they will be gone forever, but you can save them to your smartphone after you've uploaded them, just like on Snapchat.
Some nice facts to know: your story follows the privacy settings of your account. If your account is set to private, only your followers will be able to see your story. However, you can always hide your story from anyone you don't want to see it, even if they follow you. You can also check who has seen the photos and videos in your story by swiping up while watching your own story, also this data will disappear after 24 hours.
Have fun with Instagram Stories!